Five Things to Think About Before Making DIY Pillow Covers with Performance Fabric
Nothing makes a living room or master bedroom seem cozier or look more seasonally appropriate than the right throw pillows! Interior designers often suggest refreshing the look of your home by changing or adding pillows to your décor. It's easy. It's fast. And you can do it with performance fabric.
Many guests love to sit with a throw pillow tucked behind their backs or even snuggled into their laps where they can balance a small plate of snacks or a wine glass while chatting. Unfortunately, this means that the pillows often suffer from spills and crumb mishaps. The best thing about covering throw pillows in performance fabric means that guests' sheepish apologies can be quickly turned to awe as the stain quickly disappears before their eyes!
A number of LiveSmart performance fabrics are conveniently available to purchase by the yard. The fabrics available complement performance fabric sofas. (Side note: If you haven't started using performance fabric for your sofas, what are you waiting for?) Here's a pro-tip: for a change of pace, use performance fabrics to sew removable covers still using your existing pillow inserts.
Here are five tips to consider when making your own DIY pillow covers with performance fabrics:
1.) Get Creative.
Throw pillows aren't just for sofas. Think about using colorful throw pillows for playrooms, in your home office or an old sofa to liven up the space. Use throw pillows in your master bedroom to add a pop of color. Use performance fabric in all of these spaces to help you stay stain-free.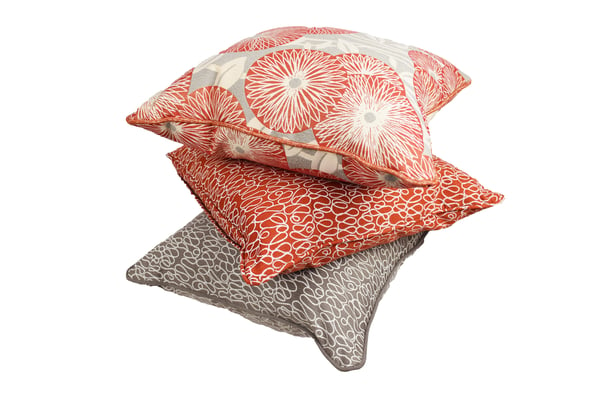 2.) Mix and Match.
Make several covers for each pillow. You can save time and money by using one pillow insert and changing out the covers seasonally.
3.) Order Sample Swatches.
Order samples first to ensure that colors and patterns are what you're looking for. If you haven't seen a fabric in person, the colors may be brighter or simply different from your expectation.
4.) Measure Beforehand.
Be sure to order the correct amount of fabric. Don't forget to include seam allowances on all sides when ordering fabric for throw pillows.
5.) Blend Fashion and Functionality.
Adding performance fabric to throw pillows will help you brighten your home while keeping you relaxed and stain-free!
Using performance fabric for throw pillows just makes sense when you consider our busy, active lives. Enjoy life. Stay spotless.