Recover Dining Room Chairs with Performance Fabric
Selecting just the right dining room furniture is an intense process for some. It can take months, or even years, to find the pieces that are not only comfortable for your dinner guests but that fit your style, your family and your budget. So, when those perfect pieces start showing wear-and-tear, a sense of mild panic is not uncommon.
Fortunately, performance fabric is now available by the yard for the discerning home decorator! You can have the best of both worlds by keeping your beloved dining chairs and covering them in performance fabric to keep stains at bay.
Stain resistant fabric is the perfect option for busy families as well as for active hosts and hostesses. After all, you can sit back and enjoy your dinner guests when you have no worries that the chocolate sauce you're serving won't forever be a part of your décor. Adding performance fabric to dining chairs adds a whole new element of comfort and ease whether you're serving toddlers or your somewhat clumsy best friend.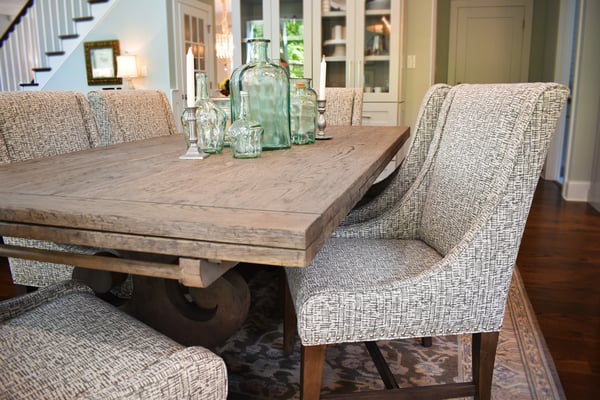 Here are a few tips to keep in mind when opting to re-cover your dining chairs:
1.) Whether you decide to take on your dining chairs as a DIY project for yourself or cart them away to a local upholsterer, it's important to get the appropriate amount of fabric. There are fabric calculators and sites available online to assist you, including this one.
2.) Stain resistant performance fabrics by-the-yard are available in a number of colors and patterns. You can even order fabric samples so that you can coordinate with other fabrics and furnishings in your home.
3.) Don't forget the cushion. After you remove the original fabric, be sure that the integrity of the cushion is still there. If you're using a professional upholsterer, he or she may recommend a replacement cushion. If you're doing it yourself, be sure that the cushion still has shape and isn't disintegrating. While your new performance fabrics will certainly help protect the cushion, because of its stain- and water-resistance, the original cushion may have suffered some damage after years of use with standard fabric.
4.) Take before and after pictures! Don't forget to keep a record of your rehab so you can share your transformation with friends and family!
Remember to tag us too - @LIVESMART_BY_CULP & #LIVESMARTFABRIC .
Using performance fabric for recovering dining chairs is a perfect use for LiveSmart fabric-by-the-yard. Not only will you be able to live stain-free in your dining room, but the fabric will look so fresh for years to come that you will be looking for other pieces to reupholster around your home!