LiveSmart Delivers a Clean Performance at Spring Market 2019
It's hard to believe Market was two weeks ago! Spring Market in High Point, NC is always a delight: the four days were a mixture of vibrant sunshine and a bit of pouring rain, but just like performance fabric, we outlasted the weather and discovered the newest trends in home furnishings design.
Performance fabrics are becoming the norm for showrooms, retail stores, offices, and homes. It's no wonder: sofas, chairs, pillows (and even pet beds) go through a lot when put to use, and we want fabrics that we can rely on.
Performance fabrics simply make sense.
Color Stories that Last
As we strolled the vast showrooms of April Market, we noticed that LiveSmart continues to be a force in the industry – performance fabrics are becoming a conventional offering for manufacturers and retailers, and our collection provides the best value in the market.
Neutrals are still in, and the trend is moving from greys to warmer neutrals that include a range from cream to beige and brown. Cool blues are still hot, yet deeply saturated greens made a grand entry as the star of some showrooms, and Market guests were in awe over rich jades and dazzling emeralds. Vintage blush is also a featured color that accents the green as well as a soft color story that marries well with taupe, linen, and faded plums.
Color is not just an accent anymore; it is featured all over, and it sets manufacturers apart to feature a bright pop of color or a pattern above the sea of neutrals. Retailers also want subtle details that bring in lighter color combinations and a casual element that is timeless on the retail floor.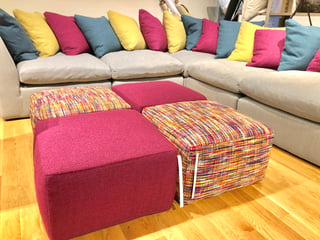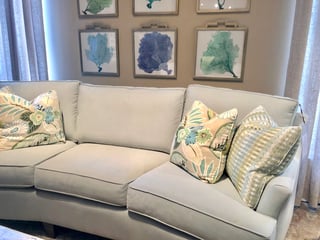 Bold Textures and Soft Details
From top designers to consumers, texture is all the rage. The newest furniture trends highlight a variety of textures with varying degrees of soft and plush fabrics. The trends are also leaning towards pairing textures with leathers or flat linens to create a luxurious contrast and comfort for the consumer. Accents of velvet and heavier, bulkier chenille are also making appearances.
We discovered that retailers are not shopping based on price alone; they want value aligned with a fresh look that stays ahead of trends, and comfort is a top priority for consumers. We love seeing our product come to life on the showroom floors as our customers transform it into creative and beautiful pieces, and we were encouraged to see that LiveSmart product had prime placement in many showrooms.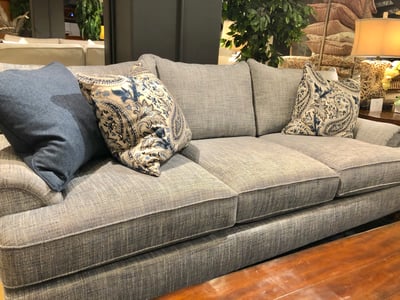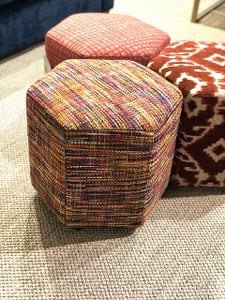 Hottest Trends on Showroom Floors
LiveSmart customers displayed their new frames and designs with a variety of Culp fabrics in their showrooms, and proved they are ahead of the curve in colors, patterns, and textures. Mckittrick fabric (available in LiveSmart) is taking the lead as the most popular woven body cloth, while Anders is a great chenille that adds texture and dimension, Halifax brings softness, and Mon Cheri adds a classic washed canvas look. We noticed our fresh new vegan leathers, Alvarado and Altamira, which add subtle pattern and texture, while Thaddeus or Dover deliver a great tweed look for a neutral feel.
Our customers are also going bold with colors and whimsical Culp patterns like Fairyland to bring unique statement pieces that contrast well with the exaggerated textures that are trending right now. Patterns always blend well with the ever-popular Faithful, an enticing neutral, or Peyton Pearl, an extra soft bright white that never gets dingy on the showroom floor or in a home filled with kids and pets.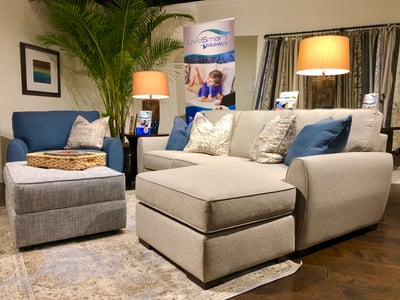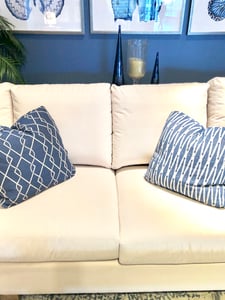 Overall, we enjoyed the exhausting yet rewarding Spring Market: our team gained great insight and inspiration for our upcoming designs. Our demo events were exciting, and we're looking forward to sending out our eLuxury LiveSmart pet beds to the winners of our giveaway. You can order one on Amazon, or you can make your own pet bed with our Fabric-by-the-Yard from eLuxury!