Holiday Spills
The Holiday season is upon us! The holidays are full of food, family, fun—and the occasional freak-out over a stain-threatening mishap. Messes and stains on your home furnishings aren't just a hassle. They decrease the longevity of that sofa, chair or perfect throw pillow, which is a drain financially as well. Performance fabrics are engineered to provide functional qualities, such as antimicrobial or moisture-repellant. Unlike simply stain-resistant fabrics, LiveSmart performance textiles combine a performance yarn with a performance finish.
When you choose LiveSmart Performance fabric to cover your furnishings, you're choosing superior cleanable fabric that combines unmatched stain resistance and moisture repellency. Most spills bead up on the surface and cleanup transforms to an easy swipe of a paper towel. Use the cleaning instructions at the end of the guide to easily clean your performance fabric, and you can celebrate worry-free!
1. RED WINE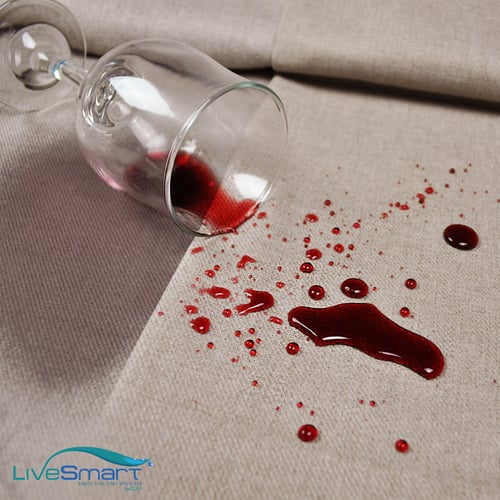 Oh, no! Your guest accidentally spilled a splash of red wine during an animated conversation on your white sofa. If you have LiveSmart Performance fabric, don't panic - with our stain resistant, moisture repellent fabric you can stay worry-free during cleanup. Simply soak up the wine with a paper towel. Whatever remains, take a damp cloth mixed with a little detergent and blot it away! Voila.
2. CRANBERRY SAUCE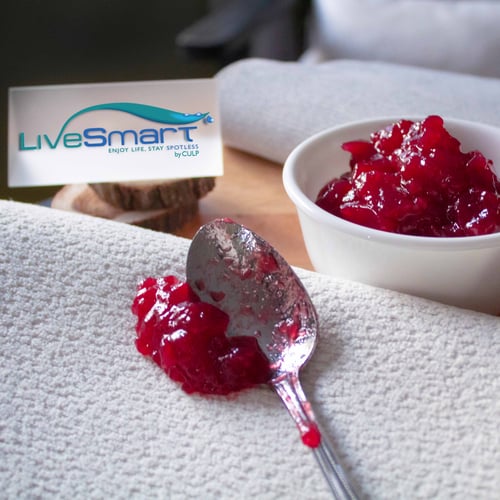 Prepare yourself: Your dining chairs will take quite a beating during a formal holiday meal, and some of the most stain-prone smears may be caused by that vibrant, tangy culprit, cranberry sauce. Having your seat cushions covered in LiveSmart may just save your sanity! Pick up what you can then, using a cloth and water mixed with mild detergent, begin blotting away until the stain is removed.
3. MASHED POTATOES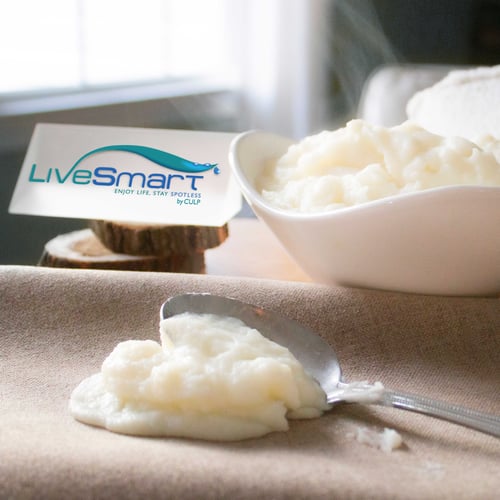 The holiday dinner was a smash! All your guests are gone and you're tidying up what remains. Then you see it - smashed in mashed potatoes on your dining chair cushion. Take a deep breath - they're covered in LiveSmart. If it's started to dry, first scrape the chunks away with a butter knife. Address the stuck-on leftovers by using a damp cloth + some mild detergent and gently begin to blot it away in a circular motion. Continue this step until the stain is no more.
4. PIE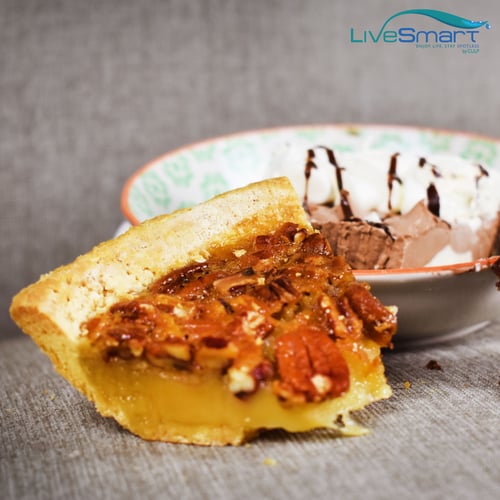 Dinner is done and your whole crew is gathered in the living room, enjoying the scrumptious dessert you serve to finish out the night. If a piece of chocolate or pumpkin pie finds its way onto a dining room chair, sofa cushion or holiday pillow - stay calm, because you're covered by LiveSmart Performance fabric! First, remove the excess dessert carefully. Then using a cloth and soapy water just blot up the residue and repeat the application until clean.
5. COFFEE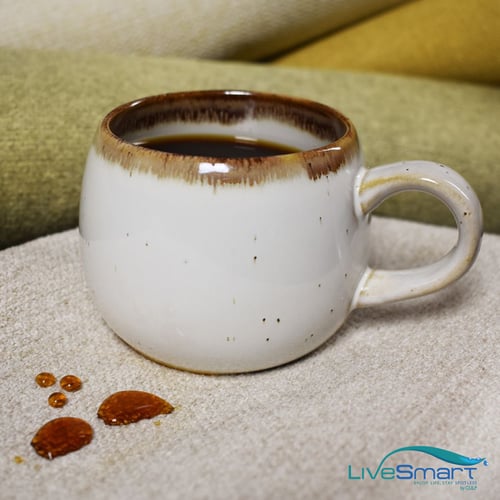 When the coffee you serve with dessert refuses to stay confined to its mug, remember you have LiveSmart! Using a napkin or paper towel blot up as much of the spill as possible. If anything remains, using a damp cloth continue blotting until the mess is gone.
✨✨✨
There's no need to fear: LiveSmart performance fabric is here! Whether you are looking for comfort, functionality, durability or all three, LiveSmart checks the box.
Enter the holiday season refreshed, not drained
CHOOSE LIVESMART 💧

CLEANING GUIDE FOR HOLIDAY SPILLS
For liquid spills including stains, wine, coffee, milk, soda, beer, urine, tea, or juices, start with a clean, dry, absorbent cloth to blot up as much of the liquid as possible. Then, follow up with a liquid detergent (1 tbsp.) and lukewarm water (16 oz.) mixture, and follow up with a clean, damp cloth.
For non-liquid spills including ketchup, salsa, chocolate syrup, chocolate, ice cream, jelly, magic marker, pizza sauce, nacho cheese, or dirt/mud, use a soft brush or butter knife to remove the excess contaminants, then mix up a batch of lukewarm water (16 oz.) and liquid detergent (1 tbsp.), blot it with a dampened cloth, and rinse out the residual soap with a clean, damp cloth.