Showtime June 2019: Design and Sustainability
Showtime was an exciting and busy four days! We love being part of this event! One of our favorite parts is that it gives us the opportunity to meet one-on-one with our customers from all over the world, and reveal what we've been working on behind the scenes.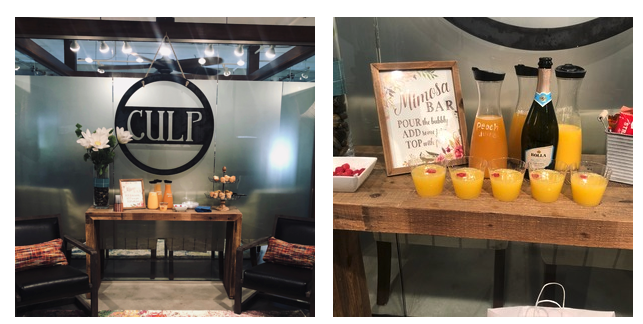 We held events and showings in two locations: our corporate showroom at Culp Headquarters, and at our Market Square Tower showroom in downtown High Point. Our customers enjoyed fabric showings, cocktails, snacks, and demos at both locations, and they had the opportunity to enter a drawing to win a LiveSmart pet bed!



Culp Goes Green!

There is a very important shift happening in consumer behavior right now. Many are being strategic and purposeful about what they buy. It's not just about color and design anymore – it's incorporating sustainability and helping to preserve the Earth for our future generations.



Our biggest surprise during Showtime was the unveiling of our new sustainable line, LiveSmart Evolve™ powered by REPREVE®. LiveSmart Evolve fabric is made with at least 30% or more of a high-quality, polyester yarn made from recycled post-consumer plastic bottles. Each linear yard contains recycled materials equivalent in volume to approximately 9 standard-sized, plastic water bottles. We loved seeing the fascination in our customers' eyes with the number of bottles that could be repurposed into one sofa!

👇450 WATER BOTTLES!👇


LiveSmart Evolve™ emerges from Culp's continued effort to reduce its carbon footprint and design products for the betterment of tomorrow. Billions of plastic water bottles go into landfills each year. LiveSmart Evolve is helping divert these bottles into sustainable fabrics with exceptional moisture repellency and stain resistance, without compromising the hand. The LiveSmart Evolve story offers an easy way for our customers to incorporate sustainability initiatives into their product offering. They are excited that we have introduced an affordable way for them to "go green" and set themselves apart to younger consumers. In the end, it's about doing the right thing to conserve our natural resources and be a part of positive change!

Download our LiveSmart Evolve informational tech sheet to learn more.

LiveSmart Color Stories

It's no secret that we love color! Color helps shape everything from our mood to the products we buy. The beauty of color is that trends from previous seasons don't immediately disappear; they merge and meld and take on a whole new life. In today's world, first impressions are formed in a split second - color can quickly capture a consumer's attention.


Papaya / Hibiscus
Shoppers are looking for simple, graphic and organic patterns done in brighter colors that add personality to their spaces. Layering paints, fabrics, rugs and accessories in this color family create drama against a backdrop of lighter neutrals. We used Pantone's color of the year "Living Coral" as the inspiration for our papaya color trend. The instant visual interest that these colors create is the perfect complement to our LiveSmart performance bodies. The new rule is 90% white and 10% color. The vibrant energy from our Hibiscus color trend is fresh, bold and youthful, full of hopeful energy and optimism.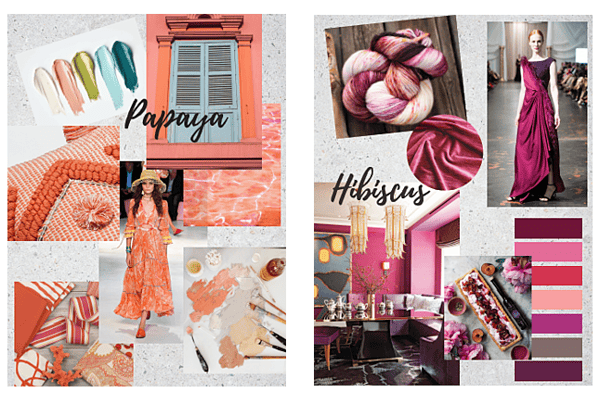 Tuscany / Desert Vista / Sunset /Honey Glaze
Bronze, blush, terra cotta, sangria, ochre & mahogany colors dominate this palette. Layers of analogous colors create warm and inviting room living spaces. The boho-vibe is back but with a vintage modern twist. The overdone eclecticism is quickly fading. Owning unique pieces is still very much in style - but there is a definite trend towards adding a little breathing room to your most lived in spaces. When the functionality of a space is overtaken by clutter, it creates chaos.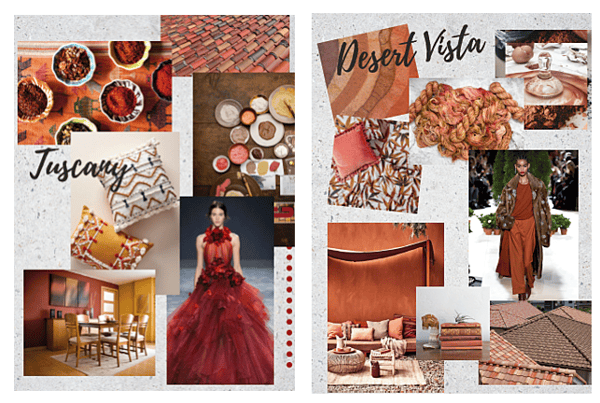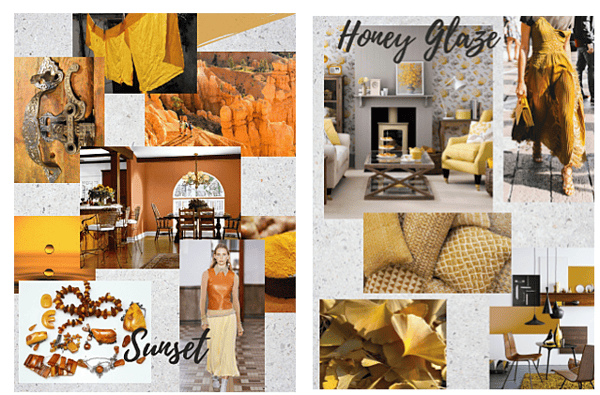 Night Sky / Celestial
Our Night Sky color trend shifts the traditionally indigo blue palette towards a smokier deep blue that blends with warmer, earthier grays and browns for an old world, naturalist feel. The marriage of blue and grey in the night sky palette creates an understated sense of tranquility in the home. The Celestial color palette incorporates calm misty blues and hazel taupes with hints of grey. This calming palette introduces a serene energy into the home.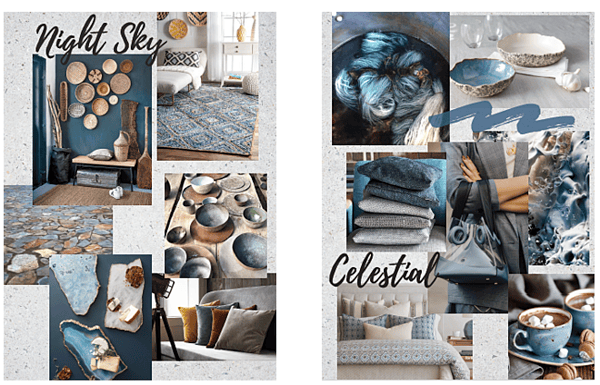 Bayberry / Oasis / Heirloom
The layered green combinations in our Bayberry, Oasis and Heirloom color trends reflect a more mindful, lifestyle-based approach to color and design. Outdoor and indoor living areas merge seamlessly bringing together the demands of constant digital engagement and the need for the healing effects of nature. The soft misty greens and soft plum tones from the Heirloom color trend manage to balance feminine and masculine details. The deep jewel tone greens and teals from the Bayberry color trend fill a room with welcoming richness.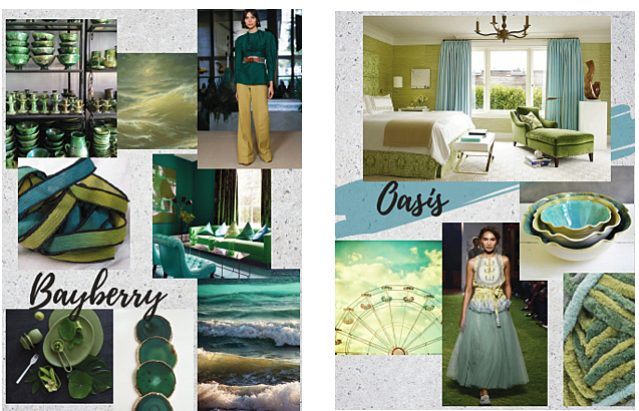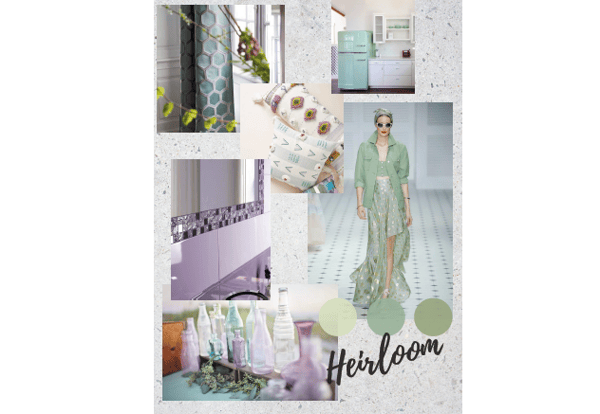 Showtime 2019 was an amazing time! We cannot wait to see how our customers incorporate our color stories and powerful sustainable story at October Market.