New Year, Brand New Color!
PANTONE COLOR OF THE YEAR 2022
This is the first time, in Pantone Color of the Year history, that PANTONE has created an entirely new color to represent the year 2022!
PANTONE® 17-3938 Very Peri.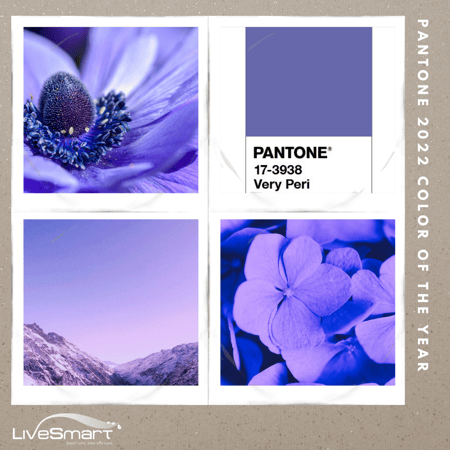 A dynamic periwinkle blue hue with a lively violet red undertone intends to symbolize the global ambience of the moment and the transition we are going through in light of the global pandemic. It's a forward-thinking color - blending the faithfulness and constancy of blue with the energy and excitement of red, this happiest and warmest of all the blue hues introduces an empowering mix of newness. Very Peri illustrates the fusion of modern life and how color trends in the digital world are being manifested in the physical world and vice versa.

Pantone says this modern color has the ability to "inject a sense of playful freshness into home interiors, enlivening a space through unusual color combinations. A versatile shade that animates our creative spirit, PANTONE 17-3938 Very Peri is suited to an array of different materials, textures, and finishes, providing a pop of color whether introduced through a painted wall, statement furniture or home décor, or acting as an intriguing and eye-catching accent in a pattern."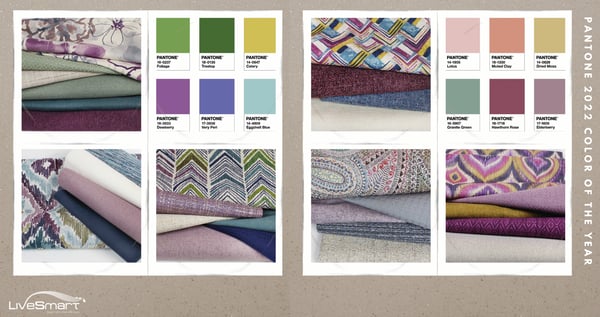 "The Pantone Color of the Year reflects what is taking place in our global culture, expressing what people are looking for that color can hope to answer." added Laurie Pressman, Vice President of the Pantone Color Institute. "Creating a new color for the first time in the history of our PANTONE Color of the Year educational color program reflects the global innovation and transformation taking place. As society continues to recognize color as a critical form of communication, and a way to express and affect ideas and emotions and engage and connect, the complexity of this new red violet infused blue hue highlights the expansive possibilities that lay before us".

We can only hope that Laurie Pressman's forecast of "expansive possibilities" are on the horizon
Here's to positive thoughts for a better year, as we enter 2022! ✨
Follow us on Instagram, Twitter, and Facebook for daily updates on the best performance fabric.