Stain Resistant Dining Room Furniture: The Future is Now
If you think that sticky toddler hands or even your spouse's Dorito-stained fingers would ruin nice "adult" dining room furniture, think again. Your family actually doesn't have to suffer through meals on uncomfortable wooden dining chairs sans cushions. And your guests certainly don't have to beg to move to the more comfortable living room furniture during the middle of an otherwise lovely dinner party.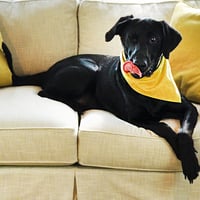 Maybe you keep thinking that maybe when the kids are grown or the dogs stop being unruly or when you can finally hit the plates with the gravy while serving…. maybe then you can get beautiful fabric on your dining chairs.
The truth is that none of those things has to happen. You can have gorgeous dining room furniture in just the right shade of anything. Now.
Today's furniture can be covered with high performance, stain-resistant, water-resistant fabric with protection that never has to be reapplied. Some performance fabrics, like LiveSmart, are made with a built-in barrier protection so that stains and liquids don't have a chance to penetrate the fabric. And, because the protection is in the actual fibers, it can be cleaned so that your furniture remains spotless just like the day you bought it.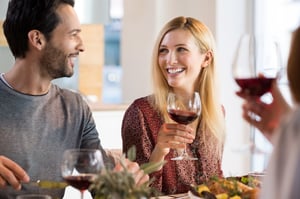 It's like becoming a real adult with comfortable, beautiful dining room furniture now instead of many years in the future when you think your family is ready. Because the truth is, they are never going to be ready. Spills are going to happen. Your furniture should fit your life now…not the life you think you'll have 15 years from now.
So, here are ten reasons to get out there and find dining furniture with performance fabrics now:
You can spill today. And tomorrow. And it will still. look. new. (You do have to wipe the stain away. There is a minimal effort here.)
You can finally get that beautiful color you've always wanted. And, yes, you deserve it.
Comfortable chairs might keep the kids from squirming. But broccoli may not.
Your friends will think you're brilliant. And you are.
Your mother-in-law will finally approve. So will your mother. Your spouse may still not care.
You can serve chocolate pudding to toddlers.
You can host the next girls' night. With red wine. Or white. But neither will leave a mark.
Serving a six-course, three-hour French meal is not out of the question on comfy chairs.
Great after-dinner conversations would never have to be halted.
Because you can.


Performance Fabric vs. Furniture Protective Spray. What's the difference?
Learn more by clicking below!