LiveSmart Evolve: The Fabric of Change for a Sustainable Future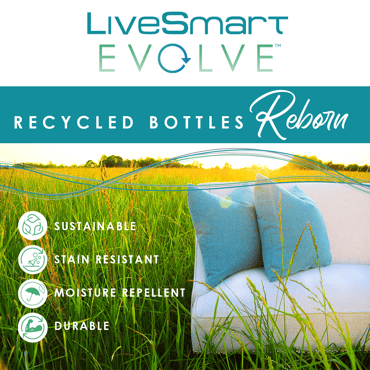 Evolve is a word that evokes feelings of renewal, change, and the presence of natural elements. For us, it's a concept that puts action to all that we do: it involves a continual motion forward in a positive direction rather than remaining stuck in the ways of the past. Our LiveSmart® performance fabrics has been breaking standards of the norm since it began, and we're excited to introduce a new product category called LiveSmart Evolve™, a sustainable textile product for a new generation of environmentally-conscious consumers. Now, you can live worry-free from stains or spills AND be a part of positive change to conserve natural resources!
What is LiveSmart Evolve? ♻️
Did you know that millions of bottles go into landfills every year? We're doing something about it. The new product emerges from Culp's continued effort to reduce its carbon footprint and design innovative products for the betterment of tomorrow. Trusted performance meets sustainability to bring about a better future for everyone: LiveSmart Evolve is a fabric comprised of LiveSmart performance technology combined with REPREVE®, a high-quality polyester yarn made from recycled, post-consumer plastic bottles.
Perhaps you've seen how the apparel market has been leading the way in creating sustainable products? Now our customers will be able to advance industry change in sustainable products for furniture and home design. Each linear yard of fabric contains recycled materials equivalent in volume to 9 standard-sized, 500 ml plastic water bottles. If you multiply that by the average number of yards used per chair, sofa, or sectional, the impact really adds up! We're thrilled to provide products to fulfill the needs of the millennial market to obtain environmentally-conscious products for the home. LiveSmart Evolve is the fabric of change for a better future!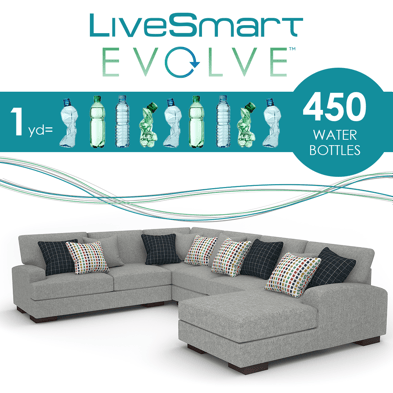 How Does it Work? ♻️
LiveSmart Evolve brings together three incredible qualities to create a superior performance fabric: recycled fibers, water repellency, and stain resistance. Using approximately 30% or more of REPREVE fibers along with LiveSmart performance technology, this new durable fabric collection will divert plastics from landfills and make a difference to conserve our natural resources while combatting the growth of landfill waste.
In essence, we give new life to recycled materials! Since recycled polyester conserves water and energy while emitting fewer greenhouse gases, we're helping to divert plastic bottles to new, sustainable purposes as we reimagine fabrics for the home.
Discover more about LiveSmart Evolve: download our informational tech sheet, or contact us for industry ordering information.