How It's Made: A Review of Evolve Fabric by LiveSmart
Have you heard about our incredible new line of sustainable fabrics made with plastic water bottles? We're proud of LiveSmart Evolve™ because we know that we're taking part in a positive change to reduce landfills and design products for the betterment of tomorrow.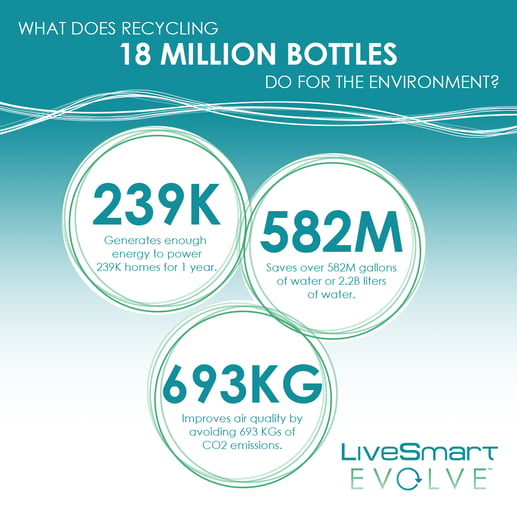 LiveSmart Evolve is designed to be sustainable and perform with exceptional moisture repellency + stain resistance. How can so many exquisite traits be part of the same fabric? We're here to show you how it's made.
REPREVE®: A Certified Recycled Yarn
Perhaps you've seen pictures of the Great Pacific Garbage Patch, which is one of "five offshore plastic accumulation zones" and spans 1.6 square km of plastic pollution in the ocean, according to Forbes. Plastic is an ever-growing environmental issue, both on land and sea, and we knew it was time to make a change.
That's where Repreve comes in.
Repreve is a high-quality polyester yarn made from recycled post-consumer plastic bottles. The bottles come from material recovery facilities (MRFs), and then they are processed in the Repreve Bottle Processing Center in Reidsville, NC. The bottles go through a state-of-the-art multi-step process, where they're sorted, the labels are removed, and then the plastic is chopped into small pieces called flake. The flake gets washed, dried, sorted, and bagged – then, it's sent to the Repreve Recycling Center in Yadkinville, NC. There, the flake is melted down and reformulated into small pellets called chip. The chip then is extruded and spun into Repreve fiber, a super soft yarn that we use in our new Evolve line.

Why Does It Matter?
We utilize 30% or more Repreve fiber in our LiveSmart Evolve fabrics, so each linear yard contains approximately 9 standard-sized plastic water bottles. When you think about the 50 or so yards of fabric that covers a sectional and cushions, that's close to 450 bottles saved from littering landfills or oceans! We also include all the performance traits of our LiveSmart fabrics, so the fabric is moisture-repellant, stain-resistant, heavy-duty, and oh-so-soft.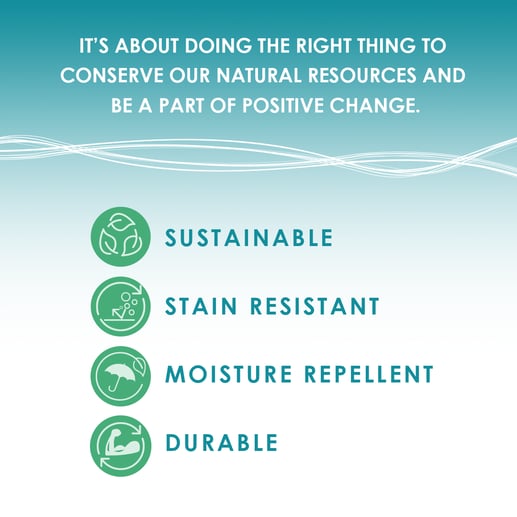 We want our customers to have the option of fabrics that help to better our world. We are giving new life to recycled materials as we reimagine fabrics for the home. Recycled polyester generates energy, conserves water, and reduces greenhouse emissions from our air for a healthier, more earth-friendly environment. All Repreve fiber is certified recycled content, so we can have confidence in its origins. Now, you can design soft, sustainable, and high-performance pieces that will bring beauty to homes all over the world.
Want to learn more about LiveSmart Evolve? Download our informational tech sheet, or contact us for industry ordering information.