Performance Fabric Made Quite a Showing During Showtime 2018
Twice a year, North Carolina hosts the pre-eminent upholstery and decorative coverings market in the Western hemisphere. Furniture manufacturers, textile manufacturers, retailers, RV and marine manufacturers and more come together to preview the hottest new selections in textiles, leather and accessories. The most recent Showtime was held June 3 through June 5. Representatives from more than 800 global buying companies flocked to High Point to meet, discuss, and share the latest textile designs and trends .
LiveSmart by Culp was excited to be a part of the event; Showtime provided us with some interesting takeaways after interacting with buyers for several days in this vibrant atmosphere.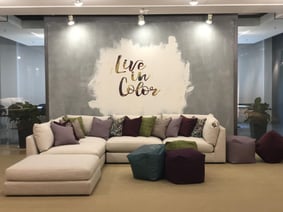 Color. Color has always been an important part of design, so it was no surprise to us that the buyers responded to our extensive mix-and-match color story presentation. This is an effective resource they can use to quickly and easily put together room settings for retail customer presentations.


Value. Everyone loves the value that LiveSmart fabric offers. We have a huge variety of performance fabrics; manufacturers can effortlessly put together a stunning sofa group with gorgeous pillows and a sensational body with a perceived value that transcends the actual cost.


Performance. All the LiveSmart patterns are designed to correlate from the ground up and our color stories span every product category and price point in the line. Because performance fabrics are in such hot demand now, just about everyone is looking for fabrics that meet that need. The reaction to our lines at Showtime corroborated our belief that LiveSmart is the fabric customers are looking for.


Mood boards and line books. We are always prepared with mood boards to highlight the colors and trends hitting the market. Our customers are delighted and inspired by our mood boards and have even begun incorporating their own version of our mood boards into their furniture market exhibits. Line books are always a critical component of every Showtime event. We love to work with customers to put together unique programs that fit their individual needs.
We were thrilled to be a part of this June's Showtime. Our designers worked hard to create our premier display showpiece: a breathtaking jungle waterfall designed using hundreds of small fabric squares. Our visitors were enchanted! It's industry events like Showtime that help us remain inspired and motivated to continue to create performance fabric that outperforms, outlasts and outshines the competition!