Fall 2020 Culp Inspirations
There is no beauty without color. Colors are captivating. The experience of color is personal. The images, memories, and inspiration that color brings to each of us may be different, but the stories are alive nonetheless.
For Fall 2020, we have developed our color inspirations into 9 beautiful collections. These may be our favorite so far!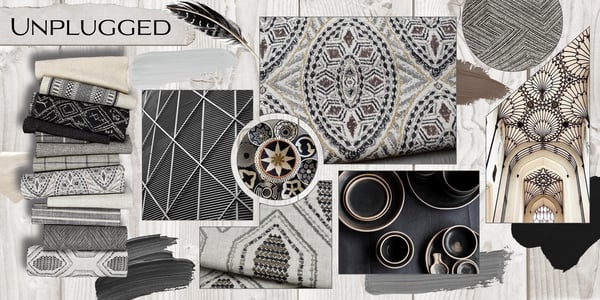 Unplugged –Inspired by natural weaves and handmade accents, modern and old world collide in this celebration of handcrafted textile traditions rediscovered and reinvented. Rugged textures and global patterns merge in this trend to showcase a modern bohemian style that leaves you feeling well-traveled yet grounded and completely at home.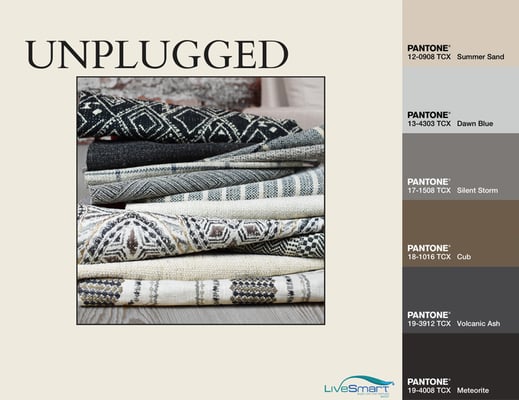 * Rustic, Homespun & Handcrafted Looks
* Dramatic Contrast
* Vintage Aesthetic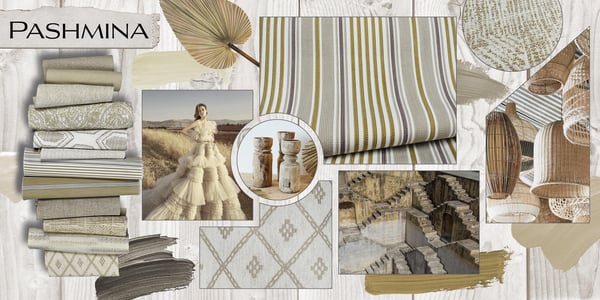 Pashmina – The colors in this palette are a meditation on comfort, connection, and the pleasures found in the everyday. There is new direction towards desert neutrals with a warm, earthy vibe that have timeless appeal. Pashmina establishes a collection of neutrals that float between warm and cool in a harmonious combination of silky honey and cream tones anchored with mushroom and cocoa.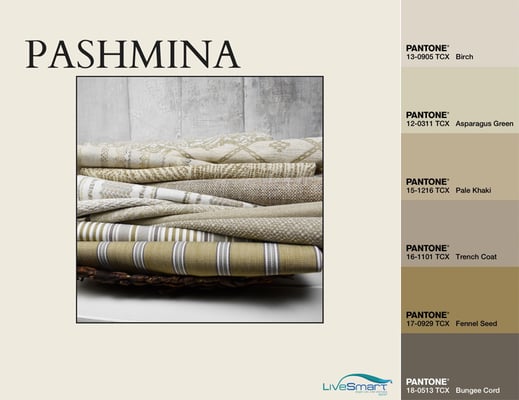 * Soft, Soothing & Luxurious
* Silky Earth Tones
* Old World Naturalist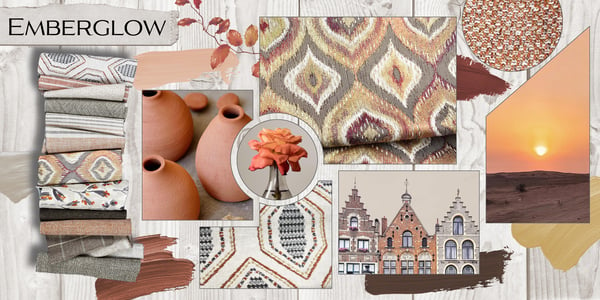 Emberglow – The perfect balance of cool and warm colors, Emberglow showcases velvety earth tones inspired by aged plaster, earthenware, and clay. This palette brings new warmth into the home and reveals the beauty in timeworn details of artisan pieces. Like a treasured heirloom, handcrafted materials remind us that every great story started from humble beginnings.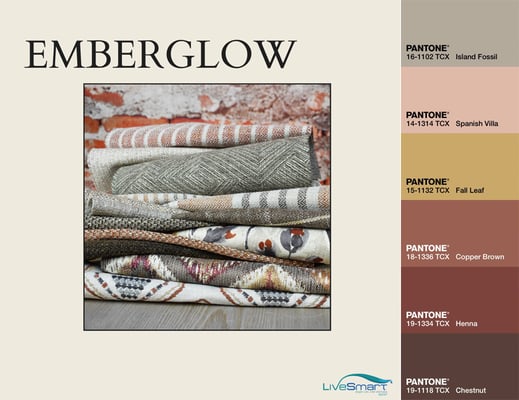 * Earthy, Warm & Natural
* Mineral-rich Colors
* Rustic Elegance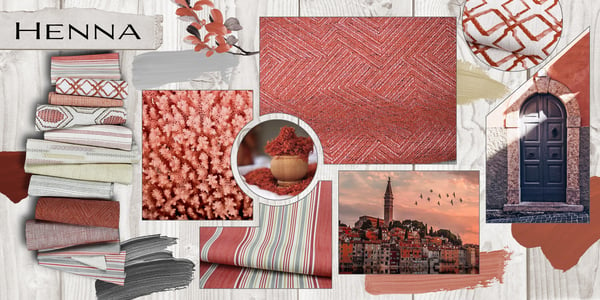 Henna –Energetic and clever, this palette packs a lot of charm, and adds warmth to everything it touches. The muted jewel tones paired with livable greys give an invigorating pop of color and create a stunning visual effect infusing any room with joy and enthusiasm.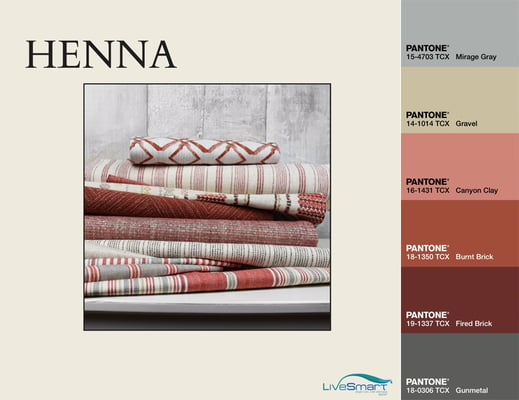 * Hopeful, Energizing & Uplifting
* Inherently Optimistic
* Vibrant, Livable Palette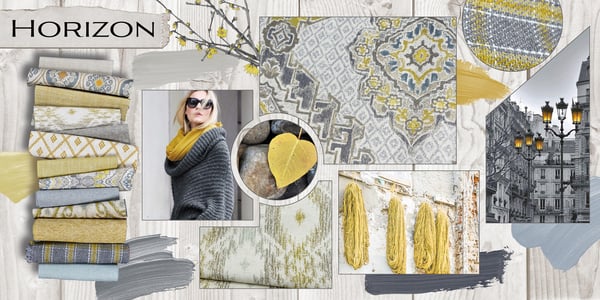 Horizon – The pairing of a soft, dependable grey and butter yellow in the Horizon trend creates a comfortable and calming space. The gradual softening of what has become a very familiar color palette can bring harmony to a space and sooth overstimulated eyes. An innate reminder that sometimes real beauty lies in the spaces outside the lines and calm comes from knowing perfect isn't the only way to be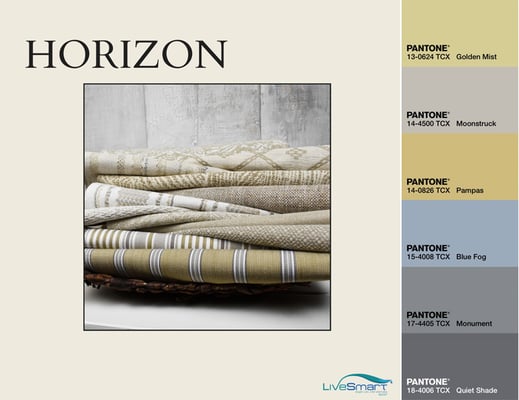 * Grounded, Serene & Harmonious
* Perfectly Imperfect
* Pantone 2021 Colors of the Year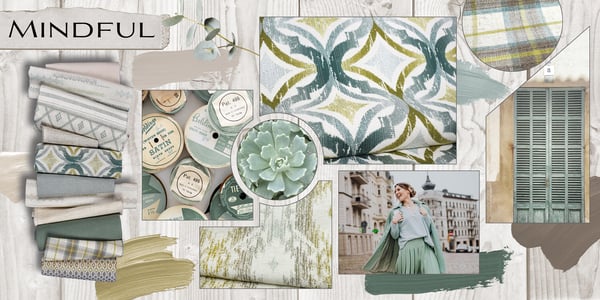 Mindful – Be present, be positive, and relish the moments of this amazing life. Invite the beauty of the outdoors inside. Nature's tranquility captures the calm simplicity we're seeking, while warm neutrals and natural tones create a nurturing environment where less will always be more. Complex, less saturated shades of green like aloe, sage and moss combine to create a soothing, restorative palette. The nature inspired colors have an authentic quality that creates a grounded space, inspiring peace and well-being.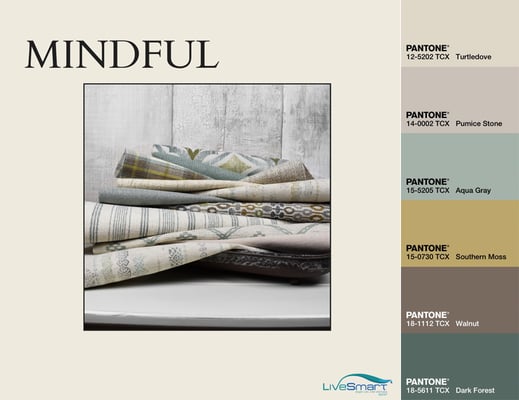 * Nostalgic, Tranquil & Ethereal
* Bringing the Outdoors In
* Less Stress, More Healing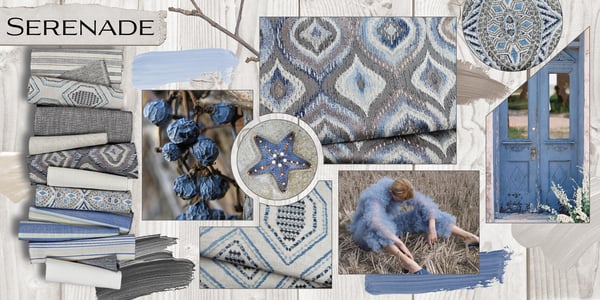 Serenade – When the world outside gets chaotic your home becomes your haven. Here periwinkle emerges as the newest addition to the family in combination with soft greys and crisp neutrals. Exactly like a pair of trusty blue jeans, this palette represents comfort and ease creating a calm and serene space. It embraces all that is simple yet utterly essential.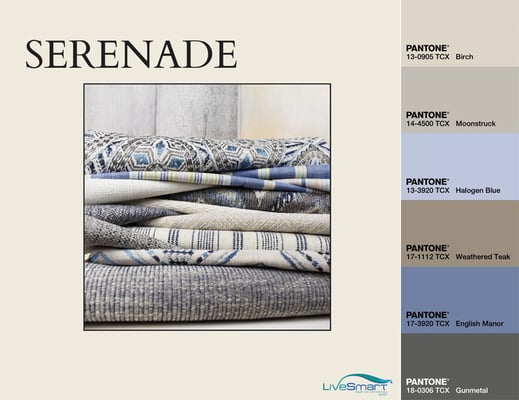 * Refreshing, Uplifting & Calming
* Feeling of Authenticity
* Rediscovering Simplicity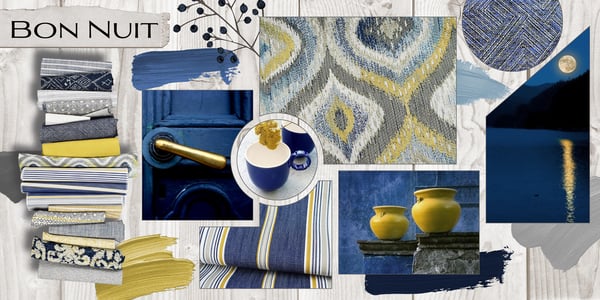 Bon Nuit – Navy and Indigo never go out of style. They are always fresh, chic and handsome. The deep, rich colors in this palette have a renewing strength filling a room with energy, creativity and confidence. The sapphire undertones are elevated to an easygoing elegance with the addition of saffron accents reminiscent of the midnight sky.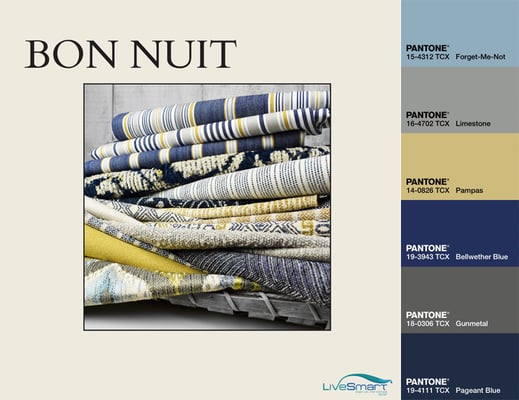 * Tailored, Tasteful & Timeless
* New "Neutral"
* Pantone 2020 Color of the Year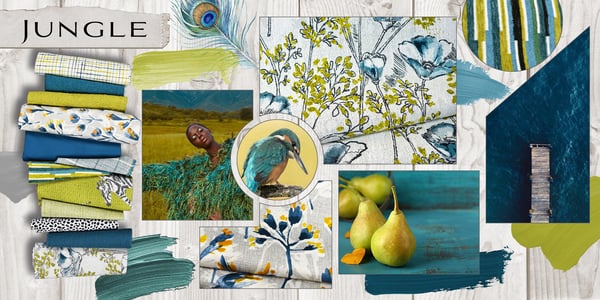 Jungle – The jewel toned teal and citrus green of the Jungle trend have punch and pizzazz, creating an invigorating space that still feels fresh and sophisticated with a touch of opulence. This palette foresees a future of innovation and optimism. As our digital lives blend with our everyday experiences, a daring palette of rich hues and forward-thinking colors seamlessly comes together.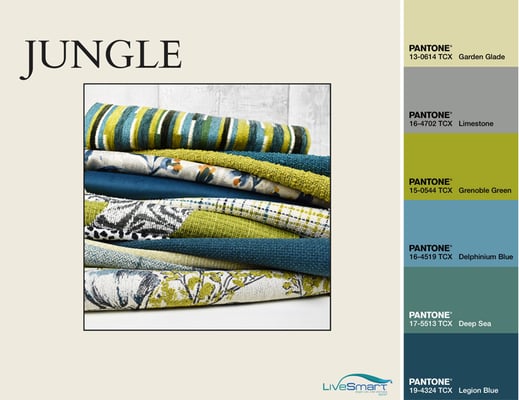 * Playful, Animated & Energetic
* Creative Expression
* Introduces Upbeat Energy
The role color plays in our virtual world is so absolute that its power is hard to overestimate. So, how would you integrate our trends into your home?
Follow us on Instagram, Twitter, and Facebook for daily updates on the best performance fabric.