For the Betterment of Tomorrow
Sustainability focuses on meeting the needs of the present without compromising the ability of future generations to meet their needs. At Culp, we believe recycling & sustainability should be celebrated everyday. In the last 2 years we have made big changes to initiate just that.
LIVESMART EVOLVE®💧
Did you know, plastic takes 500-1000 YEARS to degrade? One million plastic bottles are bought around the world ever minute. That breaks down to 20,000 plastic bottles bought per second!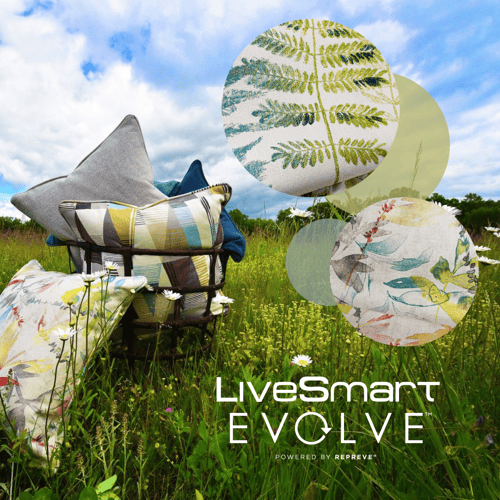 In 2018, after learning about the rate of plastic consumption in the world, the Culp Upholstery Fabrics division teamed up with Unifi, Inc. to develop a line of fabrics made with environmental sustainability in mind. LiveSmart Evolve emerged from Culp's continued effort to reduce its carbon footprint and design products for the betterment of tomorrow. This line is a group of performance fabrics that offer the same trusted cleanability and stain resistance of LiveSmart, but that are also environmentally conscious. LiveSmart Evolve is made with at least 30% or more of REPREVE® yarn, a high-quality polyester yarn made by Unifi from recycled post-consumer plastic bottles. Each linear yard of fabric contains recycled materials equivalent in volume to approximately 9 standard sized plastic water bottles. When you consider the average amount of fabric required for a chair, sofa or especially a sectional, that really adds up. In just TWO years, Culp has already diverted over 14,500,000 bottles from the landfill, helping to make a difference to conserve our natural resources!
So, what does Culp upcycling 14,500,000 bottles do for the environment? We have helped save enough energy to generate 137 homes for one year, saved over 326,099 gallons of water and improved air quality by avoiding 374,842 kgs of CO2 emissions! LiveSmart Evolve gives new life to recycled materials! Since recycled polyester conserves water and energy while emitting fewer greenhouse gases, we're helping to divert plastic bottles to new, sustainable purposes as we reimagine fabrics for the home.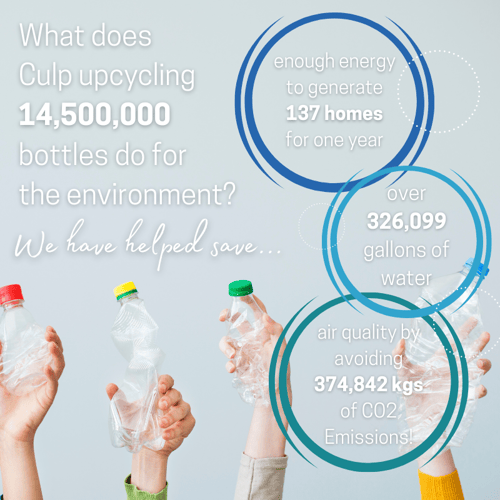 *Upcycling impact data provided by Unifi, Inc. based on REPREVE® branded sales of chip, filament, and fiber to Culp, Inc.
We developed LiveSmart Evolve to make a positive impact while creating products we love. We don't just want to make products that look good. We want to make products that do good. We always believe that if we can make products as good, or better looking than legacy products on the market, more people would consider opting for the environmentally conscious option.
LANDFILL FREE
As of October 2020, Culp's sewn mattress cover operation, known as CLASS, achieved landfill free status at our High Point, North Carolina manufacturing plant. This means the facility will no longer send any waste from its production operations to landfills.
Achieving landfill free status at this location demonstrates our ongoing commitment to environmental responsibility. This accomplishment was reached with support from ICE Recycling, which designs plans to help businesses reduce their carbon footprint and divert waste products away from landfills. Substantially all fabric and yarn waste, as well as plastic, cardboard, and other operational waste, generated from the High Point facility is now sent to ICE Recycling, where it is diverted from entering a landfill through the process of bailing, grinding, and packaging recycling materials for alternate end uses. Culp conducted extensive employee training and followed strict guidelines and procedures to achieve this milestone.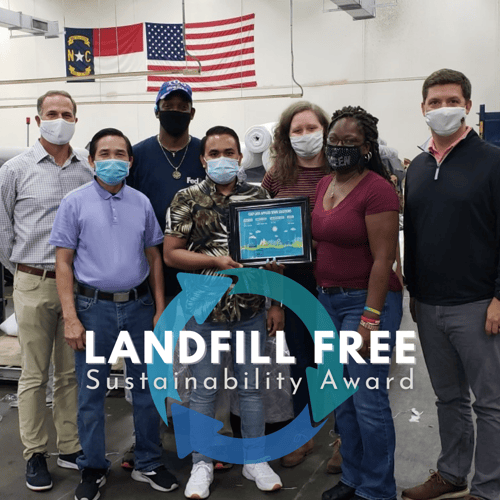 Sustainability is becoming more important for all companies, across all industries. Culp has made strong commitments to being environmentally conscious in the operation of our business. We plan to continue our path to working towards a more sustainable world, for the betterment of tomorrow 🌎💙♻️
**REPREVE® Unifi, Inc.
Follow us on Instagram, Twitter, and Facebook for daily updates on the best performance fabric.