Performance Fabric Furniture: Durability and Style
There was a time when durable furniture was not so stylish. The vinyl sofas of the past made spills easy to wipe away, but they were also terribly noisy and sticky. Some fabric chairs were touted as easy-to-clean, but the material was stiff and scratchy against bare legs and arms. I'm also pretty sure that not a single one of those so-called "durable" pieces were present in any fashionable homes.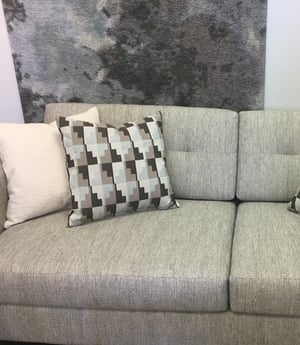 Today's consumers have choices when it comes to performance fabric for home furnishings. Want a bright jacquard that's stain-resistant? You can get it. Need a luxurious velvet that won't mind a little chocolate milk spill every now and then? You can get that, too.
Here are three reasons to buy furniture with performance fabric that is both durable and stylish for today's modern homes. I realize I'm biased here, but there are even more reasons to choose LiveSmart performance fabric.
It comes in a variety of colors and fabric styles. Today's performance fabric is available in just about every color that you would want in your home. Beige, red, brown, green, blue, purple…whatever your heart desires. No matter your decorating scheme, there is a performance fabric color to match. Do you want textured fabric, velvet or chenille? You can purchase a performance fabric that suits your tastes. Durable, stylish and alluring.

It lasts and lasts and lasts. Most people don't purchase furniture the way they purchase clothing. You're not going to buy a sofa in spring and get rid of it in the fall. You're going to buy furniture with at least a five-year plan in mind. Sure, you may change the throw pillows to suit the seasons, but your main pieces are going to be with you for a good long while. Performance fabric is going to look just as good five years from now as on the day you purchased it? Why? You can clean it easily. Spots come right out.



You don't have to reapply the fabric protection. Here's where the benefit of a LiveSmart fabric comes in. Unlike aftermarket furniture sprays, stain-resistance and water-resistance is built into the LiveSmart fabric. You don't have to worry if you've had three or five muddy paw prints, wine spills or peanut-butter-and-jelly incidents. Your whole family and the entire cadre of your friends can have an annual wild food fight for six years running and you will never have to apply anything to your performance fabric other than a damp cloth and some mild soap.


You don't have to settle for anything less than furniture that makes your heart lift when you walk into your home. You can invest in stylish, durable furniture designed with performance fabric that makes your life easier and more beautiful.
Performance Fabric vs. Furniture Protective Spray. What's the difference?
Learn more by clicking below!