Culp Inc. Anniversary Party
October 21st, 2022
Come celebrate Culp's 50th Birthday
Culp History
Robert George Culp, Jr. - to most known as 'Bullet' - devoted his entire career to the further development of the upholstery fabric industry. In 1972, at age 55, he risked his entire life savings to start Culp, Inc. with his son, Rob. During 20 years as the head of Culp, he guided the firm from fabric converter to one of the leading vertical manufacturers of upholstered fabrics in our industry. In addition, he became a manufacturer of Jacquards, dobbies, and prints. His company has become one of the most important suppliers of fabrics for the furniture and bedding industries. With limited resources, Mr. Culp developed a business from scratch to become a leader in both innovation and growth in a major industry against well-entrenched, powerful competition.
Robert "Rob" G. Culp III became a student of fabrics and the industry when he and his father co-founded Culp Inc. as an upholstery fabric converter in 1972. During his 45-year tenure, the company grew into a global producer and marketer of two distinctly different core businesses: upholstery fabrics and mattress fabrics. A consummate listener, curious and ever optimistic, he built a company known for design creativity, product innovation and an unwavering commitment to customers.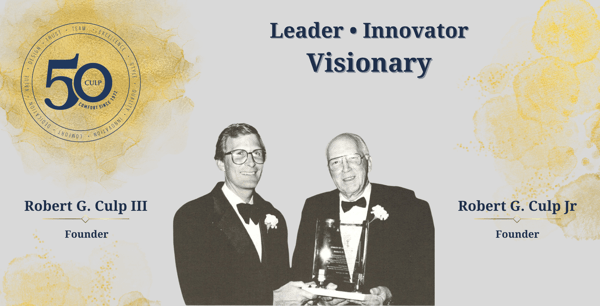 Are you ready to party?
Culp invites you to attend our

50th Anniversary Cocktail Party
Come sip a cocktail, enjoy hors d'oeuvres, and celebrate Culp's 50th Anniversary!
Date: October 21st, 2022
Time: @ 5 o'clock
Location: Culp Innovation Center at Congdon Yards
⭐Live Band
⭐Wine + Craft Beer
⭐Heavy Hors d'oeuvres
⭐Fashion Show featuring UNCG Students
⭐Interior Design Competition Showcasing HPU Students
••••
"This is a great milestone for our company, made possible by many dedicated associates over the past five decades. We are proud of our past but more importantly, we're excited about our future. A future being made every day by each one of you. Your talent, vision, creativity and dedication are propelling us forward in ways unimagined before, and I am honored to work alongside you as we create CULP's next 50 years." – Iv Culp, President & CEO, Culp, Inc.
---
We can't wait to see everyone!
The Culp Family
Follow us on Instagram, Twitter, and Facebook for daily updates on the best performance fabrics.