Fabric Talk 101: How to Educate Yourself Before Buying Furniture
You've been staring at your sofa for far too long, wondering how it's become so ratty in such a short amount of time. There's a stain from the time your sweet, adorable new puppy got in through the back door after digging up dirt in the back yard, and another from the night your red wine sloshed while you watched your favorite TV show. You don't even want to think about all the smears from sticky fingers once your baby grew into a toddler. How can everyone else's homes be so pristine, while yours looks like, well, you actually live there? Is it possible to have the best of both worlds: flawless design and livability?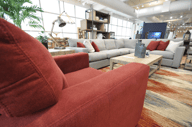 The best way to get started is by narrowing down your needs and wants, understanding fundamental industry terminology, asking the right questions, and then prioritizing what's most important to you as you dive into your search to discover the perfect fabrics for your home.
Start with the Basics
A great furniture company will always have available associates to help you with questions or advice for use, so come in with the right questions based on your needs! If colors and designs are high on your priority list, you need to ensure that you are choosing fabrics that will have no color abrasion over time; you need great quality pieces that will last, despite daily use.
Don't Judge a Cushion by its Cover
When thinking about a textile to choose for a sofa or cushions, look into its specific fabric construction, type of weave, hand, and what type and quality of fibers were used in its creation (natural, manufactured, or a blend). Be sure to ask if this textile has a tendency of pilling due to use, as well as how much durability and resilience it will have over time. Do you have kids or pets? Do you like to have the occasional snack in your living room, or do you want to have stain-resistant fabric on your dining chairs? In that case you want to make sure you are asking the right questions about the specific performance fabric that you will need.
For example, some performance fabrics clean up well on the surface, but actually penetrate the fabric and seep into the cushion itself. This means that at some point later you may be dealing with a silent, smelly culprit. It may look okay on the outside, but is actually harboring who knows what kinds of mold and smells inside.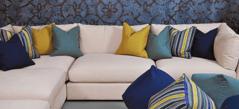 Insider Tip: There are other "performance fabric" companies out there that claim performance but don't account for spills that seep into your cushions and stay in there forever…yikes.

Did you know that LiveSmart fabric is one of the only performance fabrics that guards your inner cushions from getting soiled as well? This means it doesn't allow spills to permeate the fabric. You're welcome.
After breaking down what's most important based on your priorities, you may come to realize that even despite your best efforts to keep your furniture spotless, life gets in the way sometimes. And let's face it: who wants to trade in truly living and enjoying your days for worrying over a mess or spill? Because life should be lived without worry in your home, and we want to help make that happen.