Culp Showtime Overview: Every Color Tells a Story
The International Textile Alliance hosted the Showtime Market in High Point, NC on December 2 through 5. Culp, Inc. exhibited at the Market and LiveSmart designers were on hand to review current fabric trends in the various showrooms, observe color stories and connect with fabric buyers.
We designed a warm and welcoming showroom this year with vibrant colors and engaging fabric patterns and tied it all together with our theme: Every Color Tells a Story.
Inspired Colors
Colors are captivating. The experience of color is personal. The images, memories, and inspiration that color brings to each of us may be different, but the stories are alive nonetheless.
Our trend names this season are inspired by vintage movie titles that help illustrate how every color does, indeed, tell a story.
My Fair Lady
Nothing evokes steely feminine strength as much as the charismatic performance of Audrey Hepburn as Eliza Doolittle in this 1964 film. This line pulls in blushes, millennial pinks and even the warmer peach and apricot tones present in vivid sunsets. It is subtle enough to be used as a neutral in some combinations and pairs perfectly with warm, golden-toned neutrals and rich brown bodies. It can be used in combination with gold, copper, persimmon, plum, jade and artichoke. Fabrics that utilize the My Fair Lady color story are: Etheria Flame, Geordie Clay, Kettleby Chiffon, Hinkley Coral, Retrospect, Kasey Antique, and Antonio Chiffon
Lawrence of Arabia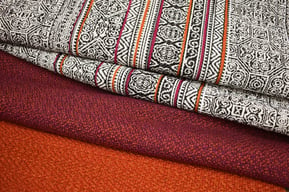 Marked by stunning cinematography, this 1962 classic serves as a perfect vehicle to gather classic jewel tones that are strong, radiant and full of energy. The grouping offers versatile layers of warm, rich shades combined in updated traditional looks. Coppers and golds are anchored by merlot or dark gray. Plum, sangria, rosewood, and copper are accented with olive, umber, Dijon and blush. These feature heavier textures and handwoven folkloric looks. Fabrics from this color story are: Palisbury Amber, Hinkley Ruby, Moto Imperial, McKinnon Russet, Greyson Inferno, and Faithful Ruby, Whiskey & Cognac.
Shakespeare in Love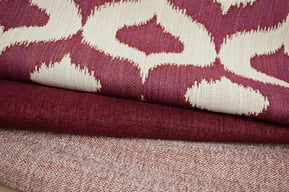 Gorgeous costuming, emotive performances and a captivating storyline make this romance the best way to organize this dramatic and understatedly elegant color story. This collection offers upscale patterns with subtle highlights of color. Currant, plum, and lilac are accented with hemlock, jade, rosewood, and blush. Warm plums can be used as a bodycloth in combination with reds and coppers. Fabrics include: Evers Berry, Colby Wine, Moto Malbec, Atomic Amethyst, Syren Daydream, and Starland Berry.
Singin' In the Rain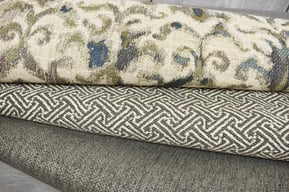 This 1952 classic conveys fresh originality with a lighthearted lively approach. The nuanced sophistication of this collection features indigo as an elegant neutral. It offers a subtle ombré of colors and textures and is influenced by the shibori and ikat looks.
Fabrics in this collection include: Etheria Smoke, Karala Midnight, Bates Charcoal, Geordie Twilight, Bridget Pebble, and Faithful Indigo.
Into the Wild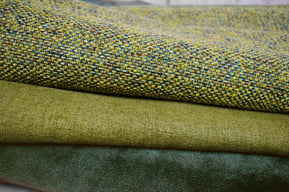 This haunting film evokes calm, tranquil, natural palettes. The casual, earthy combinations are dominated by foliage and tropical patterns. Olive, army, jade, sage, hemlock and chartreuse are complemented by blush, indigo, plum, and teal.
This collection includes fabrics like: Tessellation Spruce, Amaro Clover, Neo Olive, Faithful Olive, Kasey Hemlock, Mckittrick Lime, and Geordie Hunter.
Sunset Boulevard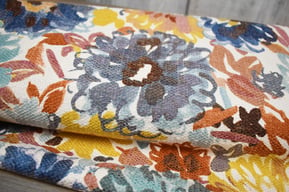 A movie about movies, Sunset Boulevard is delivered with tantalizing intensity and contains one of the most famous lines in all of Hollywood lore: "All right, Mr. DeMille, I'm ready for my close-up." These fabrics are, indeed, ready for their close-up. Bold pops of vivid color offer maximum impact and lots of energy. Gold, Dijon and saffron are accented with copper, blue, and grey. Fabrics in this collection include: Thayer Autumn, Nimah Gold, Sterlington Lemon, Loriana Serenity, Billow Chartreuse, and Dayle Tangelo.
The Hottest Culp Patterns
Similar to the experience of color, textures are no less important when selecting fabric. I have a friend who simply cannot purchase clothing online because she has to touch the fabric, let it slide through her hands, and experience the sensation of the texture with her fingertips. That's often why experiencing fabrics firsthand is so important for buyers.
Here are only a few of the patterns buyers raved about this Showtime.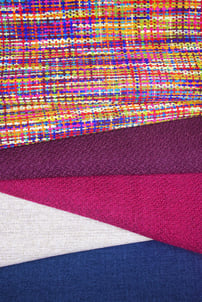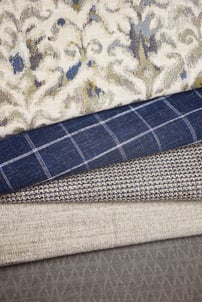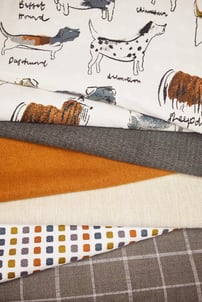 Swatches Left to Right: Fairyland Mardi Gras, Etheria Midnight, Puppy Parade in Rust
Culp is very excited about our new Showtime introductions. We have continued to expand the LiveSmart collection with a greater selection of textured bodies, linen looks, and artisanal inspired pillows. As we look forward to the new year, we will continue to focus on the growing LiveSmart line, but also working to incorporate the newest color and design trends into our line.
We see a new movement toward more casual relaxed fabrics in both contemporary and traditional, with looser frame applications, and a renewed focus on comfort. Heavy textured body cloths that have traditionally been used only in stationary are finding their way into motion as these pieces become smaller and more stationary in look.
We were so thrilled to be a part of this December's Showtime. We love having the opportunity to showcase our inspiration, hard work, and, ultimately, our incredible finished product. It's a gift to do what you love and I, for one, believe that our love for what we do is showcased in these premium products that buyers love and homeowners crave. Performance fabric is bold, on-trend, and a beautiful, sturdy addition to every home.